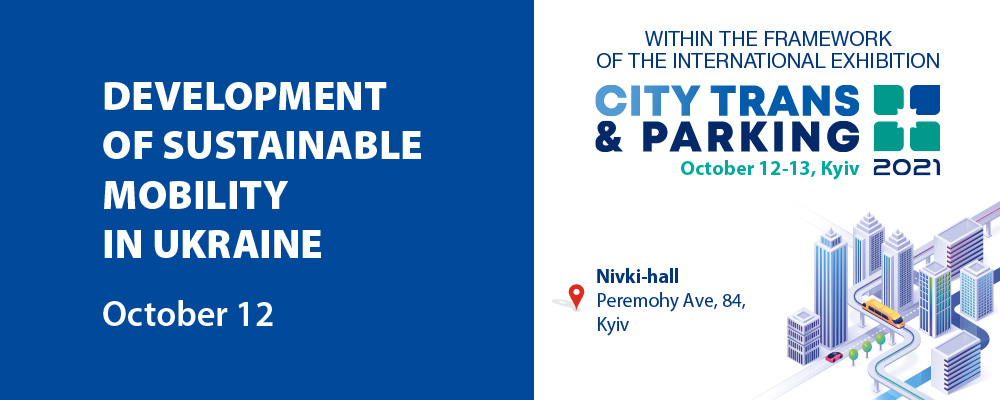 The conference Development of Sustainable Mobility in Ukraine takes place on October 12 within the framework of the International Exhibition City Trans & Parking.
Participants of the conference and representatives of local authorities, experts in transport and infrastructure, directors of utility companies, as well as private transport operators are talking about strategies for transport network development and transport policy in Ukrainian cities.
Is a city for cars or for people? How to ensure comfortable, fast and environmentally friendly movement for everyone in the city? How to get rid of traffic jams in the downtown? How to provide efficient use of urban space? The concept of sustainable mobility can answer all these questions, as well as it is capable of balancing the interests of various categories of citizens.
Some cities have already developed and started the phased implementation of a Sustainable Urban Mobility Plan. However, the major part of Ukrainian cities is just at the beginning of the path. Leading experts in transport industry will join the discussion related to the experience of pioneers in this field. They will also highlight the details and nuances of choosing a transport model, particularly how to study the passenger traffic, to optimize routes, to find out infrastructure needs and to spur preference for public transport. In addition, the conference will focus on the integrated urban development and factors which can make cities more attractive and convenient for residents.
URBAN MOBILITY AND TRANSPORT MODELING
Comprehensive public transport development program and government support
Oleksandr Kava, Deputy Minister of Finance of Ukraine
Ministry of Infrastructure of Ukraine (speaker to be agreed)
Oleksandr Slobozhan, Executive Director of the Association of Ukrainian Cities
Integrated urban development and updated general scheme of planning of the territories of Ukraine: shaping the transport infrastructure in accordance with the priorities of the State Strategy for Regional Development
Yevhen Plashchenko, Director General of the Directorate of Spatial Planning of Territories and Architecture Ministry of Development of Communities and Territories of Ukraine  
Sustainable urban mobility plan – reasons and purposes, experience of Ukraine and Europe
Ihor Mohyla, Expert for the UUPTP project, EGIS
The role of sustainable urban mobility in the integrated development of Ukrainian cities
German Society for International Cooperation GIZ GmbH (speaker to be agreed)
Data-driven approaches to optimize urban transport: case studies
Dmytro Bespalov, Transport Planning Expert, Director of A + C Ukraine
Vinnytsia's experience in sustainable mobility and modeling
Viktor Perlov, Secretary of the Standing Committee of Vinnytsia City Council on Industry, Entrepreneurship, Transport, Communications and Services
TOOLS FOR URBAN MOBILITY DEVELOPMENT . Investment in municipal projects. Important issues related to donor grant policy
Green investments in the development of green public transport vehicles in Ukraine: : financing under the Kyoto Protocol to reform the transport sector in Ukrainian cities
Iryna Stavchuk, Deputy Minister of Environment Protection and Natural Resources of Ukraine 
Raising of microlenders' funds in the development of urban transport: prospects and practice
Oksana Zatvornytska, Expert of the UUPTP project, Egis
Financial opportunities for reforms in the transport sector and renewal of vehicles in Ukrainian cities
Denys Haiovyi, Senior banker of the Municipal and Environmental Infrastructure Department, EBRD (participation to be agreed)
Program "Urban Public Transport of Ukraine II" – implementation of EU Standards to support sustainable urban mobility
Istvan Heinzinger, Senior banker of the European Investment Bank (participation to be agreed)
Modernization of public transport services for comfortable living in cities
Olena Chernyshova, IFC Transport Consultant

GREEN TRENDS IN URBAN MOBILITY
Ukrainian hydrogen integration: development of internal infrastructure and hydrogen transport market
Vasyl Doronin, Chairman of the Board of the Ukrainian Hydrogen & Energy Storage Association, Member of Hydrogen Europe
European hydrogen strategy and changes in transport sector
Jorgo Chatzimarkakis, CEO of Hydrogen Europe
Production and operation of hydrogen municipal vehicles in Europe: practical cases
Aivars Starikovs, Chairman of the Board of H2LV, Member of the Board of Hydrogen Europe
Energy solutions for transport industry – FUEL Cell and Hydrogen
Oben Uluc, Ballard Power Systems, Sales Director for Europe, Asia, Africa and India
Conservation, transportation and utilization of hydrogen in transport infrastructure
Radiša Nunić, Regional Manager, Representative of Worthington Industries in Europe and the Middle East
Practical hydrogen solutions for public vehicles
Yurii Bombanderov, Representative of Polytechnoservice Manufacturing Company
Legislative base for hydrogen energy development
Yurii Kamelchuk, Member of the Committee of the Verkhovna Rada of Ukraine on Energy and Housing Services
DIGITALIZATION OF URBAN MOBILITY
Development of digital infrastructure in transport
Yurii Matsyk, Director of Digital Infrastructure Development Directorate, Ministry of Digital Transformation
Roadmap for digitalization of urban mobility
Farid Kamil ohly Safarow, General Director of the Directorate of Digital Infrastructure in Transport, Ministry of Infrastructure of Ukraine
Intelligence transport system for video surveillance and regulation of traffic flows in Kyiv
Informatica (speaker to be agreed)
Development of digital services for smart transport in Ukrainian cities
Kyivstar (speaker to be agreed)
Infrastructure of your city
Oleksii Avramenko, General Director, EasyPay Group of Companies
Unified ticket and multimodality of passenger transportation: changes in passenger experience since introduction of the e-ticket in Lutsk
Sadik Yahsi, Director of City Card System
Inna Artemchuk, Deputy Director of City Card System
Borys Smal, Director of the Economic Policy Department of Lutsk City Council
Experience in establishing an e-tickets system in Kyiv and the European countries
Tetiana Turta, ELKO Ukraine Company